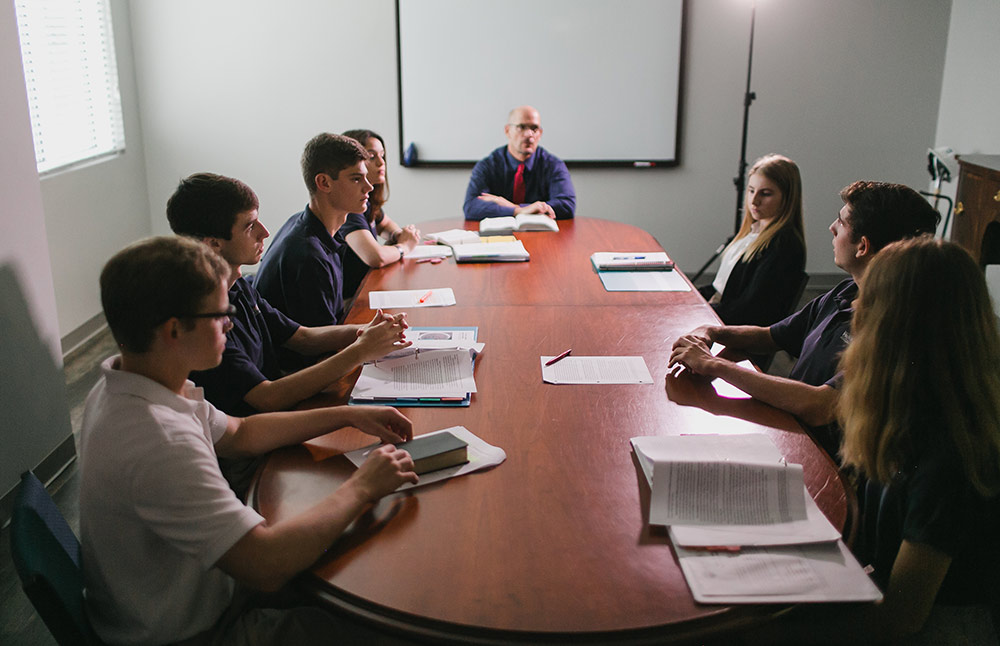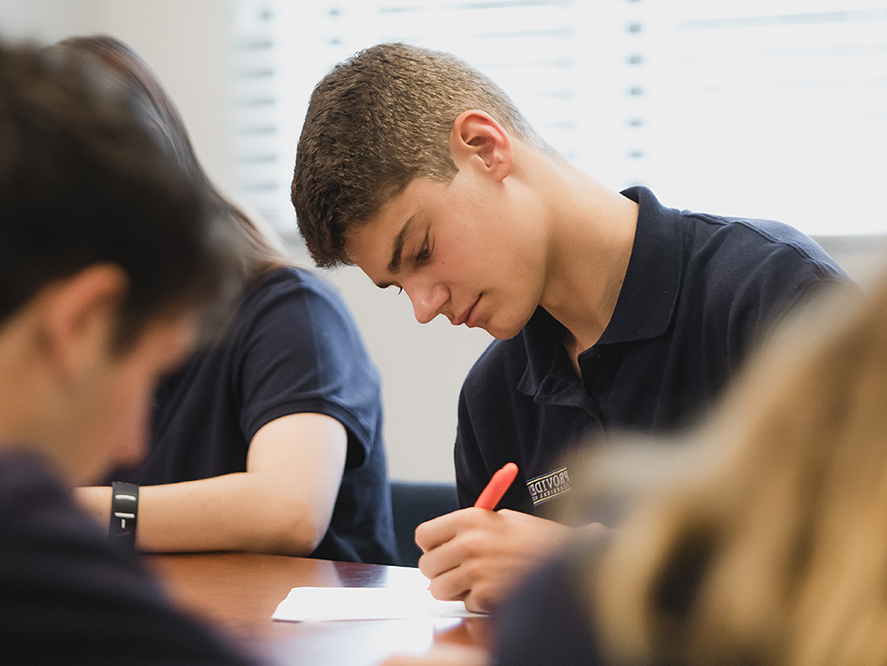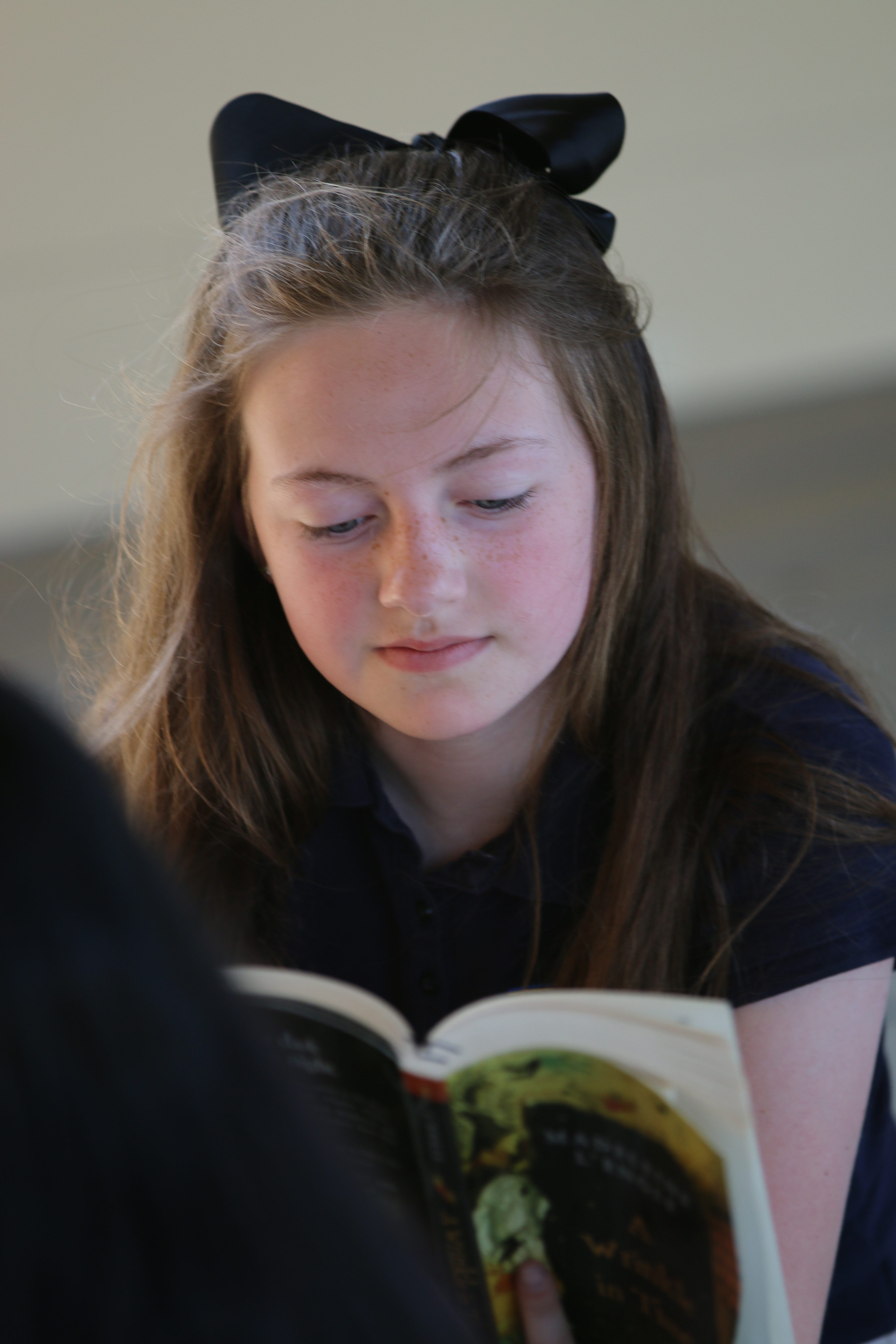 Thank you for your interest in Providence Classical School!
Providence Classical School does not use one particular curriculum but searches for the most appropriate in each subject and for those which best meet the Classical Developmental Stages of Learning. Classes are not centered on lecture and test taking but focus more on dialogue which provokes a true understanding of the subject. Teaching goes beyond mere fact-finding to inspire critically, reasoned thinking and logical decision making. The goal is to truly understand the material and not just excel at test taking. This is not to say that facts are not taught, but rather it says we ask why in order to understand the how.
School Overview
What Type of Learner is Your Child?
Classical education uses a three-step process called the trivium that gives students essential tools of learning while working with the grain of their intellectual development. Taking into consideration the natural gifts and abilities characteristic of each of the three stages, a classical education helps a student to progress from knowledge to understanding and, ultimately, to wisdom. The three stages of the trivium are Grammar, Logic, and Rhetoric.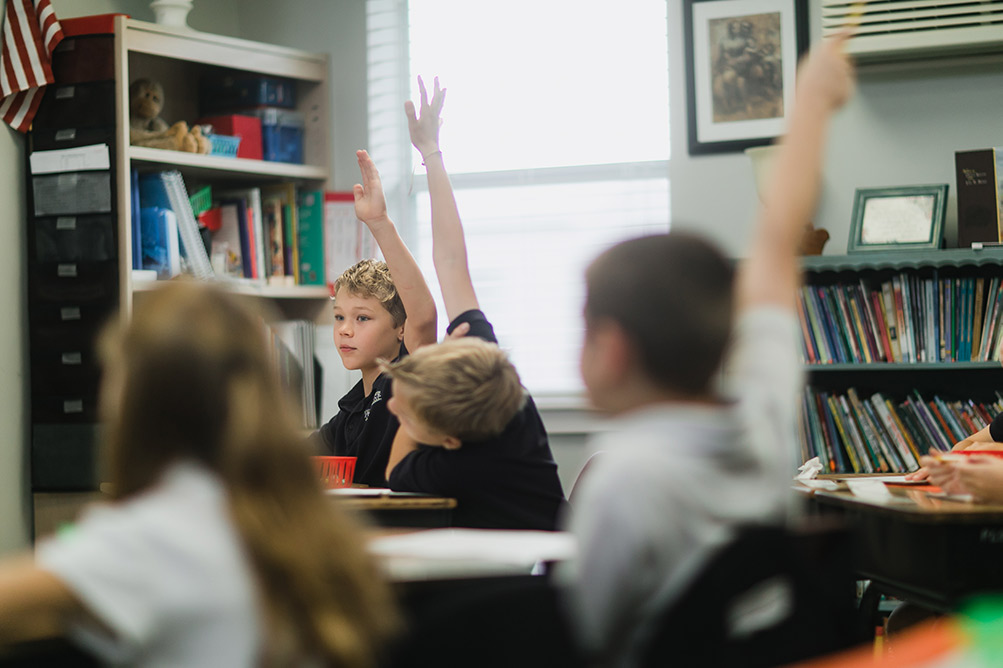 The Grammar Stage
Pre-Kindergarten through 6th Grade
Young children are naturally gifted at memorization. They enjoy reciting, collecting facts, and demonstrating what they know.
In the early grades, teachers take advantage of their students' ability to memorize and equip them with the rules and basic facts of various academic disciplines, building a strong foundation for further study.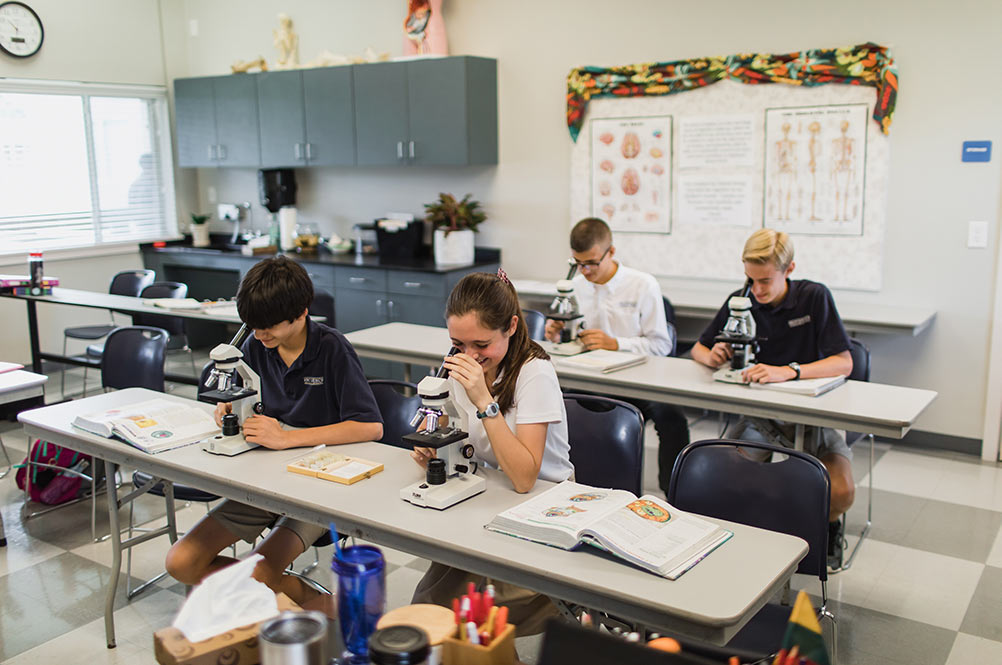 The Logic Stage
7th and 8th Grade
As students approach adolescence, they are no longer content to accept what their parents and teachers tell them is true. Rather, they want to ask lots of questions and find out the answers for themselves. Most students become somewhat argumentative at this stage.
Classical educators recognize that this is a necessary phase that students must pass through in order to become independent, thinking adults. Through the study of formal logic, teachers help students learn to reason and to think logically through arguments. Debate is incorporated as much as possible, giving students an opportunity to learn to argue in a winsome and respectful way.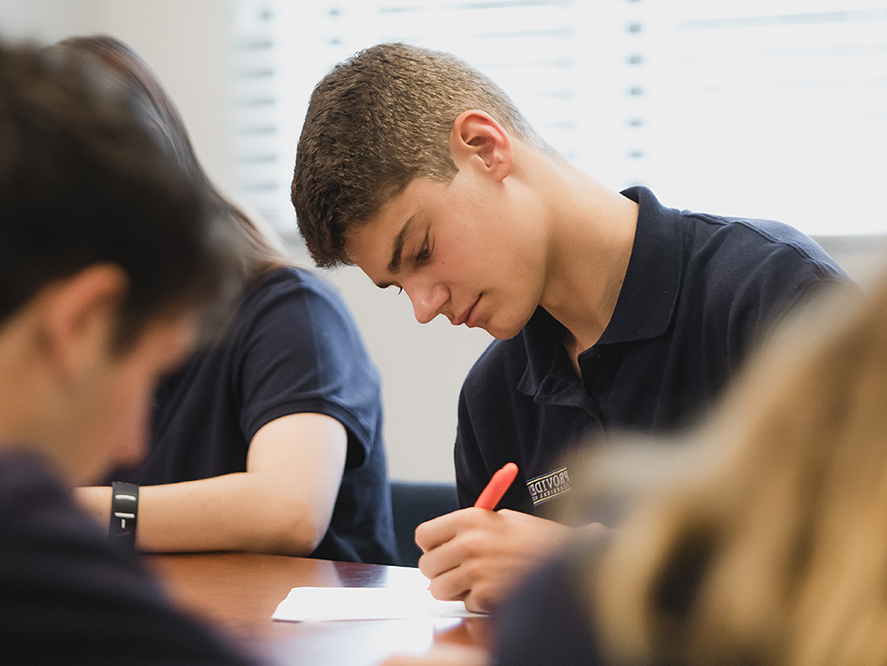 The Rhetoric Stage
9th Through 12th Grade
High school students are ready to think great thoughts, to engage in the Great Conversation with philosophers from centuries past, and to learn to express themselves effectively.
Students in the Rhetoric Stage engage actively in their education, reading widely and coming to class ready to have a lively Socratic-style discussion with their peers guided by their teachers. In every class, including math and science, students are encouraged to think deeply and to communicate well.
Please view our curriculum for Pre-Kindergarten through 12th Grade.
PCS Grammar Scope and Sequence
Pre-K
Kindergarten
1st Grade
2nd Grade
3rd Grade
4th Grade
5th Grade
6th Grade
Bible
Overview of OT/NT; Bible Stories

Overview of OT/NT; Bible Stories

Old and New Testament Books
Scripture Recitations

Reading
Phonograms
Phonograms/Beginning Reading
Phonograms, Literature
Literature
Literature
Literature
Literature
Literature
English
Phonograms

Phonograms, Parts of a Sentence

Grammar Writing Johnny Can Spell, Phonograms
Grammar Writing Johnny Can Spell, Phonograms
Grammar Writing Johnny Can Spell, Phonograms
Grammar Writing Classical Roots
Grammar Writing Classical Roots
Grammar Writing
History
Unit studies: My family
Holidays
Animals
Unit Studies:
Colonial Times
Christmas Traditions
Entomology
Ocean Life
Ancient Egypt

Ancient
Greece and
Rome
Middle Ages
476-1300
Renaissance/
Reformation,
Age of Exploration; Texas History
Early American
History (1606-1812)

Modern History (1812-Present)
Math
Math Your Way
Math in Focus
(Houghton Miffliln)
Math in Focus
(Houghton Mifflin)
Math in Focus (Houghton Mifflin)
Math in Focus (Houghton Mifflin)
Math in Focus (Houghton Mifflin)

Math in Focus (Houghton Mifflin)


Math in Focus (Houghton Mifflin)
Science
The Four
Seasons, The Five Senses, The Globe
The Four Seasons, The Five Senses

Biology, Earth Science, Chemistry, Physics


Biology, Earth Science, Chemistry, Physics
Biology, Earth Science, Chemistry, Physics
Biology, Earth Science, Chemistry, Physics
Biology, Earth Science, Chemistry, Physics
Biology, Earth Science, Chemistry, Physics
Foreign Language
N/A
N/A
N/A
N/A
Latin
Latin
Latin
Latin
Co-curricular
Music/PE/Art
Music/PE/Art
Music/PE/Art
Music/PE/Art
Music/PE/Art
Music/PE/Art
Music/PE/Art
Music/PE/Art
PCS Upper School Scope and Sequence
Area
7th Grade
8th Grade
9th Grade
10th Grade
11th Grade
12th Grade
Humanities
Ancient
Medieval Europe
Modern Europe
US History
History of Philosophy
20th & 21st Century
English/Rhetoric
Composition and Literature
Composition and Literature
Composition and Literature
Composition and Literature
Rhetoric I and Government
Rhetoric II
Bible
Hermeneutics
Truth and Logic
Old Testament Survey
New Testament Survey
Apologetics
Ethics
Math
Pre-Algebra
Algebra I
Geometry
Algebra II  Intermediate
Algebra
Pre-Calculus

College Algebra

Calculus

Statistics

Science
Earth Science
Physical Science
 Physics I
Biology
Chemistry
Advanced Chemistry
Anatomy & Physiology

Physics II

Latin
Latin I
Latin II
Latin III
Latin IV
Latin V
Latin VI
Modern Foreign Language
French I/ Spanish I
French II/  Spanish II
French III/
Spanish III
Electives
Art, Advanced Art, Choir
Keyboarding, PE, Photography
Mock Trial, Speech and Debate, Ecology, Computer Science, Shakespeare, Yearbook
Economics, Engineer Your World, Greek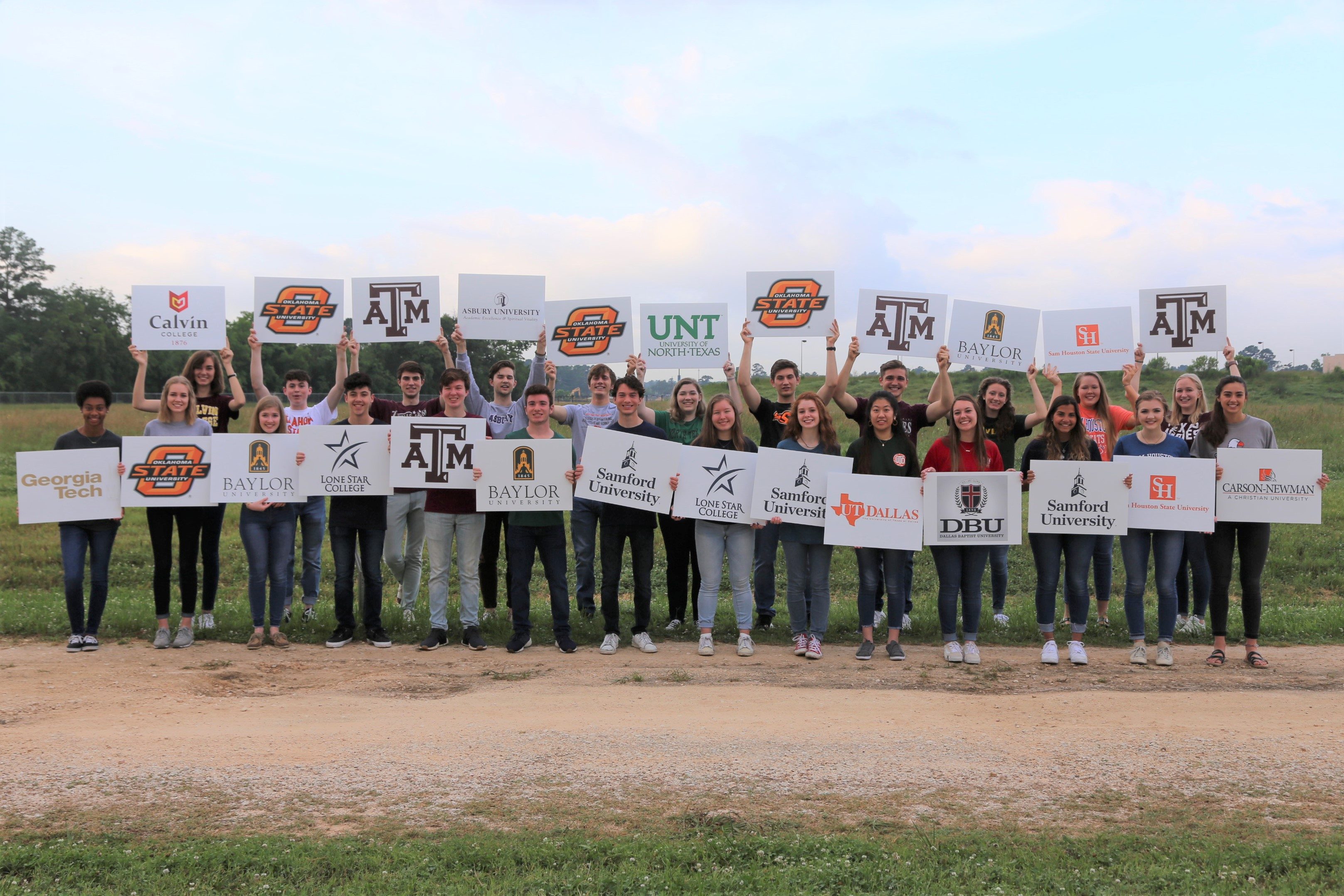 Our mission for College Advising at PCS is to partner with families to explore post-secondary educational options in which their students can continue to grow in their faith, develop their love for learning, and meet their academic and career goals. Students at PCS have a variety of interests and aptitudes, and the College Advising Office encourages families to pray and seek God's guidance together for how He wants to develop these interests in their students at PCS and beyond. Tonya Post oversees our College Advising program and would be happy to answer your questions.
School Profile
FAFSA Filing Guide
Abilene Christian University
Auburn University
Baylor University Scholars
Belmont Abbey University
Biola University
Brown University
Bryn Mawr College
Cairn University
Calvin College
Colorado School of Mines
Covenant College
Dallas Baptist University
Embry-Riddle Aeronautical University
Georgia Tech University
Gordon College
Grove City University
Hillsdale College
Hope College
Houston Christian University
Lancaster Bible College
LeTourneau University
Lipscomb University
Marietta College
Northwestern University
Oklahoma State University
Ouachita Baptist University
Pepperdine University
Purdue University
Rice University
Rhodes College
Samford University
Sam Houston State University
Southern Methodist University
Southwestern University
Stanford University
St. Edward's University
Texas A&M University
Texas Christian University
Texas Southern University
Texas Tech University
Trinity College
University of Arkansas
University of Alabama
University of Colorado Boulder
University of Houston
University of Houston – Downtown Campus
University of Mary Hardin Baylor
University of North Texas
University Of Oklahoma
University of Pittsburgh
University of Texas at Austin Business Honors
University of Texas at Austin Honors Liberal Arts
University of Texas at Dallas
University of Wyoming
US Air Force Academy
USMA Westpoint
Virginia Tech University
Wheaton College
While we are extremely proud of our students' academic achievements, the goal of a classical and Christian education is to produce well-rounded young men and women who are equipped to impact their culture for Christ. Student academic achievement is the fruit, not the goal. Instead of teaching our students what to think, we teach them how to think, resulting in students who consistently do well on standardized testing of all kinds. Providence repeatedly ranks high on lists of the top 25 high schools in the greater Houston area.
Enrollment
Total: 372
Grammar School: 205
Upper School: 167
SAT 2023 (Average)
Composite: 1280
Verbal: 648
Math: 632
SAT 2017-2023 (Average)
Composite: 1284
Verbal: 658
Math: 626
ACT 2023 (Average)
Composite: 27
National Merit Recognition (2004-2023)
Finalist: 6
Commended: 22
National Hispanic Scholars: 5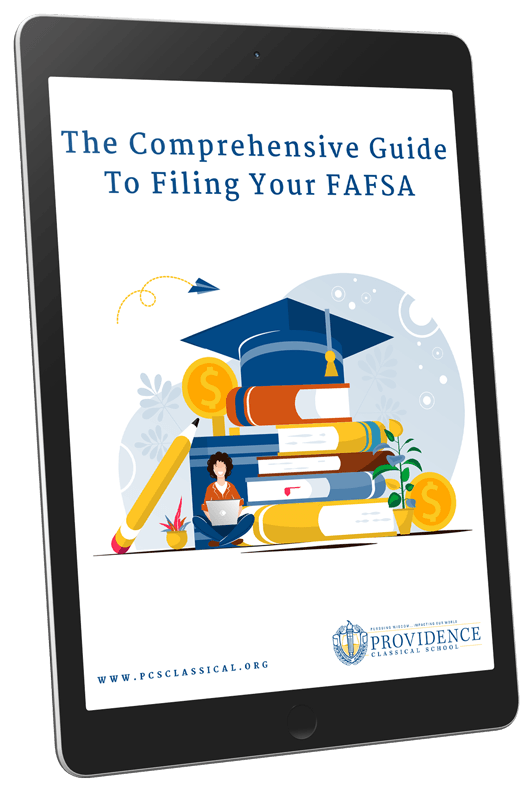 Download "The Comprehensive Guide To Filing Your FAFSA" For Free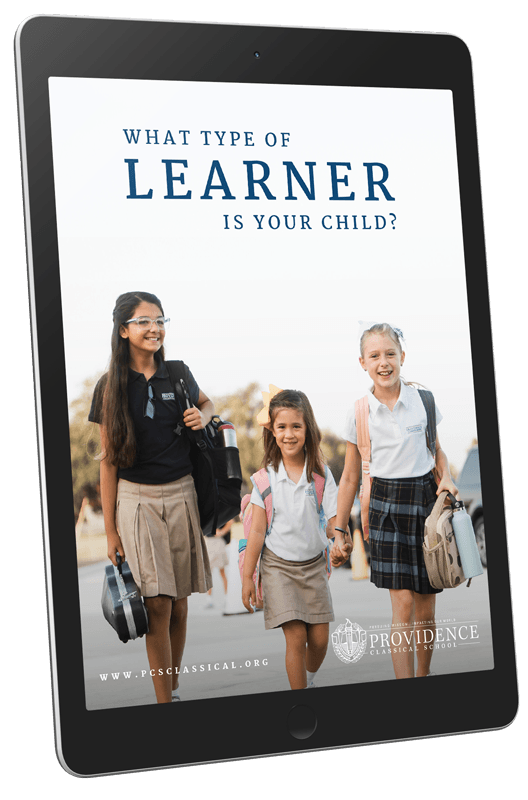 Parents of PreK – 6th graders, download our free guide, "What Type of Learner is Your Child?"