Thank you for your interest in Providence Classical School!
Providence Classical School does not use one particular curriculum but searches for the most appropriate in each subject and for those that best meet the Classical Developmental Stages of Learning. Classes are not centered on lectures and test-taking but focus more on dialogue which provokes a true understanding of the subject. Teaching goes beyond mere fact-finding to inspire critical, reasoned thinking and logical decision making. The goal is to truly understand the material and not just excel at test-taking. This is not to say that facts are not taught, but rather it says we ask why in order to understand the how. All subjects are taught through the lens of Scripture with an integrated biblical worldview.
Classical Christian education uses a three-step process called the Trivium which gives students essential tools of learning while working with the grain of their intellectual development. Taking into consideration the God-given gifts and abilities characteristic of each of the three stages, a classical education helps a student progress from knowledge to understanding and, ultimately, to wisdom. The three stages of the Trivium are Grammar, Logic, and Rhetoric.
What Type of Learner is Your Child?
Pre-Kindergarten – 6th Grade
Preschool and elementary-age children are naturally gifted at memorization. They enjoy reciting, collecting facts, and demonstrating what they know. In these early grades, teachers take advantage of their students' ability to memorize to equip them with the rules and basic facts of various academic disciplines, building a strong foundation for further study.
At Providence, Grammar School students begin their educational experience with a strong foundation in God's word, academics, outdoor play, healthy habits, social-emotional development, and fine arts. Subjects come to life through songs, chants, hands-on learning, book parties, plays, feasts, wax museums, field trips, and other experiences intended to create core memories and develop a love for learning. Students enjoy multiple recesses a day as well as outdoor lunch on our spacious decks. They look forward to Art, Music, P.E., Library, and Latin classes, perform in concerts, and lead worship in Chapel.
As middle school students approach adolescence, they begin to ask deeper questions and want to find answers for themselves. Many students become somewhat argumentative at this stage.
Classical educators recognize that this is a necessary phase that students must pass through in order to become independent, thinking adults. Through the study of formal logic, teachers help students learn to reason and think logically through arguments. Class discussions and debates are incorporated as much as possible, giving students an opportunity to learn to argue winsomely and respectfully.
Students are given more options for electives, sports, clubs, and leadership opportunities. They are placed in one of four Houses and begin to mentor younger students. The Providence Logic School building is designed to give middle schoolers more freedom while also creating a safe haven for them to socialize, play, eat, and "do life" together.
High school students are ready to think great thoughts, engage in the Great Conversation with philosophers from centuries past, and learn to express themselves effectively. Students in the Rhetoric Stage engage actively in their education and come to class ready to have lively Socratic-style discussions with their peers, guided by their teachers. In every class, students are encouraged to think deeply and communicate well.
The capstone of the Rhetoric Stage is the Senior Thesis which students spend a year writing and then present and defend in front of the school community and a panel of experts. This process incorporates the skills Seniors have learned in all three stages of the classical Trivium.
Our goal is that Providence students will graduate with the character, knowledge, discernment, and communication skills to be effective in college and beyond and, most importantly, to impact their culture for Christ!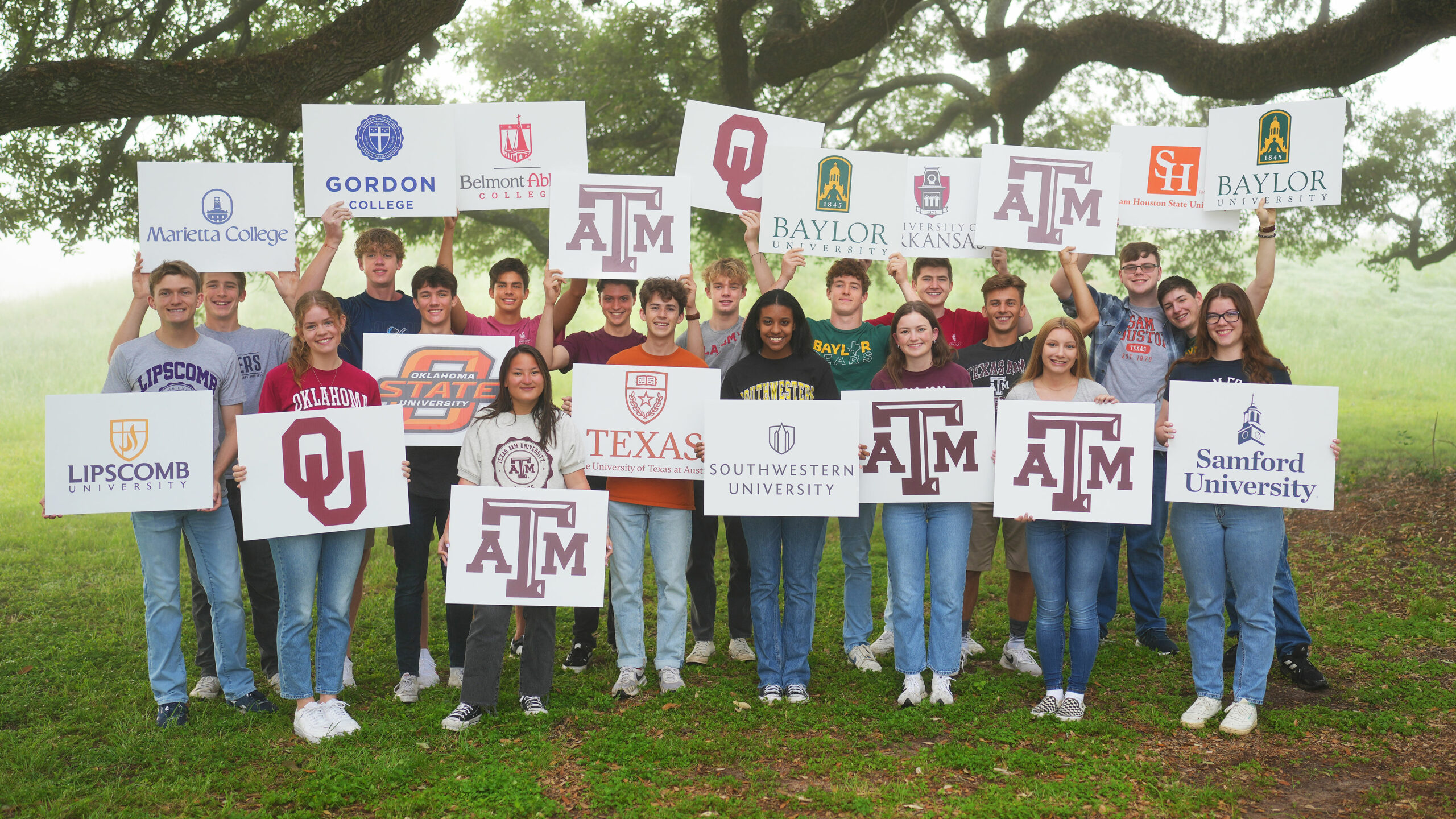 Our mission for College Advising at PCS is to partner with families to explore post-secondary educational options in which their students can continue to grow in their faith, develop their love for learning, and meet their academic and career goals. Students at PCS have a variety of interests and aptitudes, and the College Advising Office encourages families to pray and seek God's guidance together for how He wants to develop these interests in their students at PCS and beyond. Tonya Post and Bethany Scott oversee our College Advising program and would be happy to answer your questions.
School Profile
FAFSA Filing Guide
Abilene Christian University
Auburn University
Baylor University Scholars
Belmont Abbey University
Biola University
Brown University
Bryn Mawr College
Cairn University
Calvin College
Colorado School of Mines
Covenant College
Dallas Baptist University
Embry-Riddle Aeronautical University
Georgia Tech University
Gordon College
Grove City University
Hillsdale College
Hope College
Houston Christian University
Lancaster Bible College
LeTourneau University
Lipscomb University
Marietta College
Northwestern University
Oklahoma State University
Ouachita Baptist University
Pepperdine University
Purdue University
Rice University
Rhodes College
Samford University
Sam Houston State University
Southern Methodist University
Southwestern University
Stanford University
St. Edward's University
Texas A&M University
Texas Christian University
Texas Southern University
Texas Tech University
Trinity College
University of Arkansas
University of Alabama
University of Colorado Boulder
University of Houston
University of Houston – Downtown Campus
University of Mary Hardin Baylor
University of North Texas
University Of Oklahoma
University of Pittsburgh
University of Texas at Austin Business Honors
University of Texas at Austin Honors Liberal Arts
University of Texas at Dallas
University of Wyoming
US Air Force Academy
USMA Westpoint
Virginia Tech University
Wheaton College
While we are extremely proud of our students' academic achievements, the goal of a classical and Christian education is to produce well-rounded young men and women who are equipped to impact their culture for Christ. Student academic achievement is the fruit, not the goal. Instead of teaching our students what to think, we teach them how to think, resulting in students who consistently do well on standardized tests of all kinds. Providence repeatedly ranks high on lists of the top 25 high schools in the greater Houston area.
Enrollment
Total: 372
Grammar School: 205
Upper School: 167
SAT 2023 (Average)
Composite: 1280
Verbal: 648
Math: 632
SAT 2017-2023 (Average)
Composite: 1284
Verbal: 658
Math: 626
ACT 2023 (Average)
Composite: 27
National Merit Recognition (2004-2023)
Finalist: 6
Commended: 22
National Hispanic Scholars: 5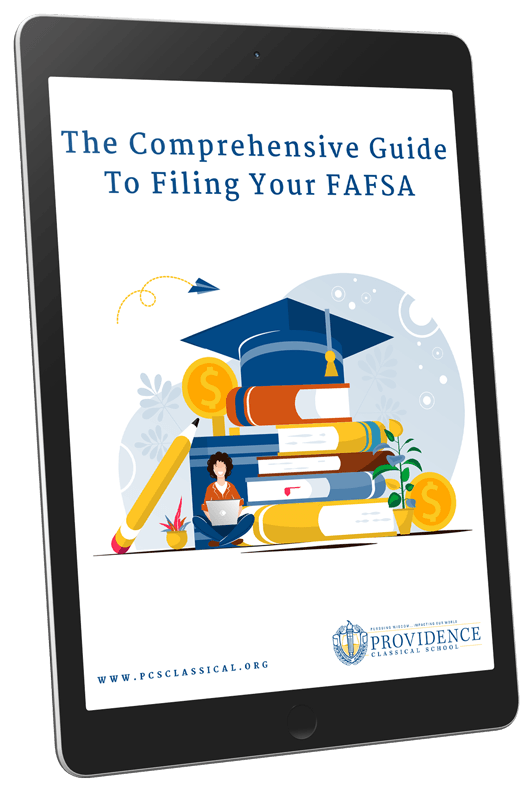 Download "The Comprehensive Guide To Filing Your FAFSA" For Free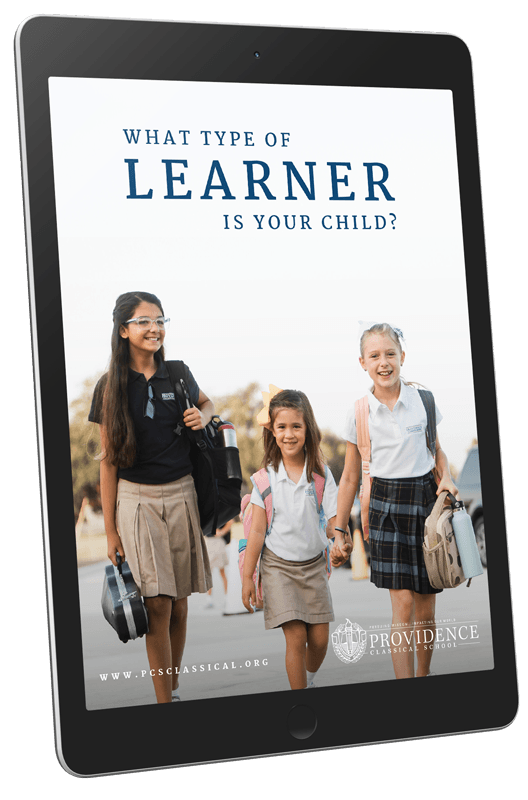 Parents of PreK – 6th graders, download our free guide, "What Type of Learner is Your Child?"