Why Parents Should Read Aloud To Their Children
To Read Aloud or Not to Read Aloud…It is Not a Question!
(Dads, take heed.)
The Hobbit, Robinson Crusoe, The Little Princess, The Chronicles of Narnia, Moby Dick, The Secret Garden, Grimms' Fairy Tales…there are so many "great books" yearning to be read ALOUD!  Why, you say, should you read ALOUD to your children when they do not seem to take much interest in reading or are already avid readers?  The reasons are many.
First, reading aloud to your children will build community within your home.  Children delight in being read to.  The relationships that are forged and the memories that are made through this quiet time together will only deepen with time. Your children need to know that reading is strongly valued in your life.  Sitting and reading together on a routine basis will undoubtedly encourage your son or daughter to pick up a book on their own as well.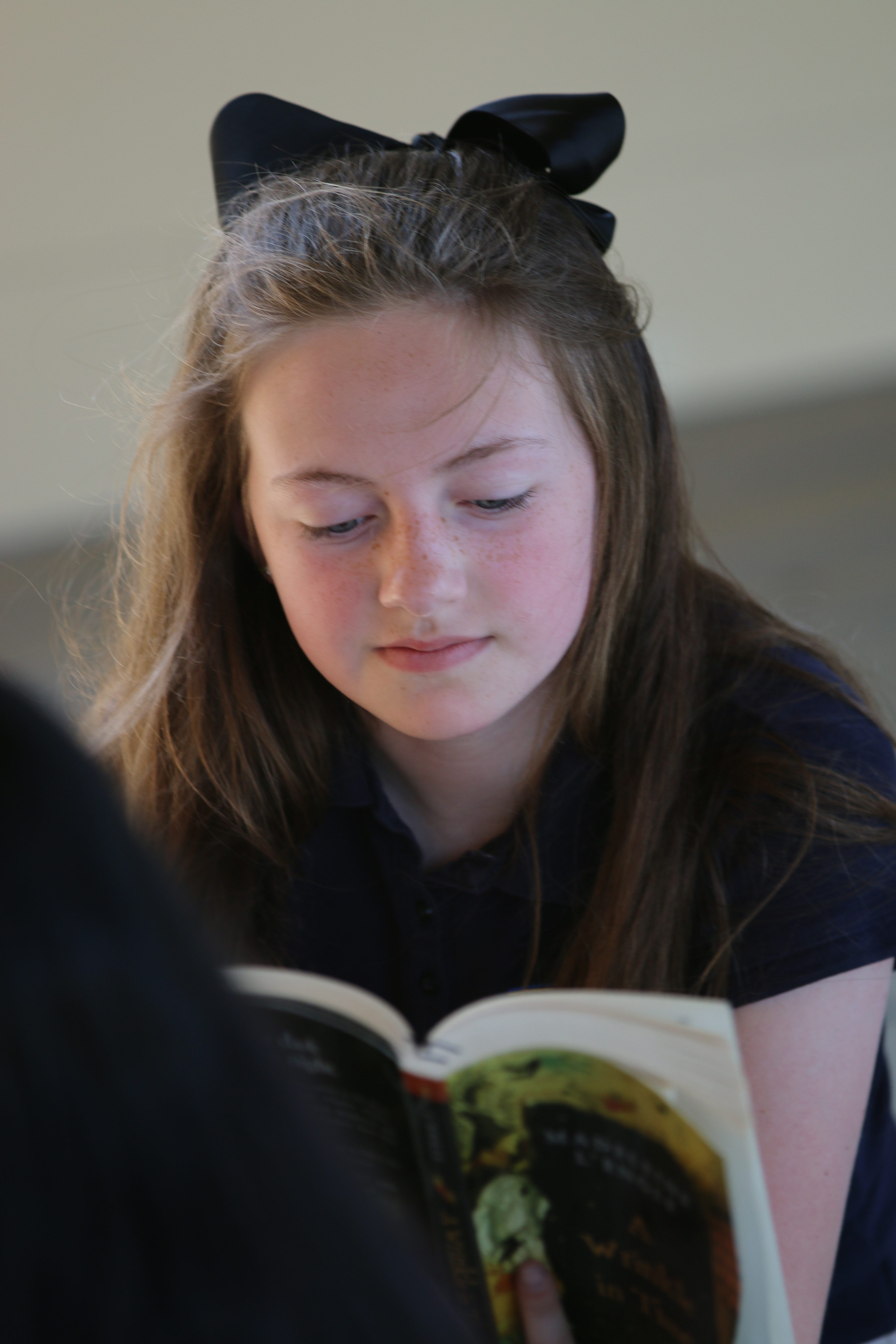 Reading aloud enhances your child's ability to learn.
Second, reading aloud enhances your child's ability to learn.  Younger children will strengthen their ability to decode the words they are beginning to encounter in their independent reading at both school and home.  Both older and younger children will be exposed to a plethora of new vocabulary that will lead them to greater heights in the world of literature.  Reading to children at a very young age is a strong indication of a healthy reader later during the school age years.  As a child encounters more and more great literature, his ability to think and reason increases tremendously.
Third, reading aloud nourishes the soul and allows your children to gain insight into what it means to be understanding and wise as they walk through this life here on earth.  Books such as C.S. Lewis's The Chronicles of Narnia and J.R. Tolkien's The Lord of the Rings trilogy are chock-full of lessons that any mother or father would want their child to know.  Andrew Kern, in his article "That Shriveled Grind"[1] states, "Wisdom requires a well-trained intellect, one that has carefully considered, not sales (of books), but the health of the soul being nourished.  If we want our children to love reading, we must stop appealing to their untrained senses without regard for taste or intellectual development (cf. Veggie Tales), and we must drive them into the text itself, where they can live the action, feel the anxieties and hopes of the characters, enter the imaginative world of the story, and experience reading as a personal act of the soul instead of merely an external act of analysis."  How can one question the importance of nourishing our little ones' souls?
What books should you read to your child?
The Providence library is full of great books.  Ask your child's teacher or the librarian for suggestions of books that they think your particular child would be interested in.   Talk to other parents in whom you have observed a passion for reading.  And be encouraged by the words of a humble Providence dad:
"Nearly every night I read to my children until they fall asleep.  I used to read a fun book or two for their "going to bed entertainment".  Then I would read a "chapter book" until they fell asleep.  These days, we mostly read the chapter books and the Bible.  We have read all of C. S. Lewis' Chronicles of Narnia and have read "The Lion, the Witch, and the Wardrobe" at least five times.  We have read classics like "Moby Dick", "Captains Courageous", "A Tale of Two Cities", "Red Badge of Courage", and the list goes on.  For the past couple of years we have read nearly every Percy Jackson book in the three different series I am aware of (with two remaining on the shelf awaiting their inclusion into the book queue (we keep the active books stored over the slats of the upper bunk so they can see them from the bottom bunk).  There are no less than five books in the slats at this time.
I hope you don't receive this as bragging.  I share this because I have noticed lately that I am less and less motivated to get up from whatever I am doing and put the kids to bed with my reading.  Once I get the book in my hand, however, I am all in.  Your message is timely motivation for me and validation that my reading is a gift in more ways than the obvious.  I did not read as a child nor was I read to.  I hated reading in school and avoided it at all costs.  I started reading for pleasure as an adult and discovered doors to a world I never knew.  Now I read to my children because I want them to love to read and to learn and to appreciate the world of literature."
So go ahead.  Find a great book.  Light a fire in the fireplace and grab a cup of hot chocolate and your precious child.  And READ!
Resources to help you:
Memoria Press:  < http://www.memoriapress.com/curriculum/classical-core-curriculum>
Deconstructing Penguins:  Parents, Kids, and the Bond of Reading by Lawrence and Nancy Goldstone
The Read-Aloud Family by Sarah MacKenzie
[1] Andrew Kern, "That Shriveled Grind (on teaching reading),"   http://www.circeinstitute.org/2008/03/that-shriveled-grind-on-teaching-reading (2008)