Christmas Traditions at PCS
Christmas has always been a special time at Providence Classical School. Our faculty, staff, students, and families enjoy a number of Christmas traditions at PCS to prepare our hearts during Advent and to celebrate the birth of Christ. During our first (and, we pray, last!) Christmas during a global pandemic, we thought it would be fun to ask students of all ages to share their favorite PCS Christmas memories and moments. Thank you to all of the students who contributed to this post.
Student Council members decking the halls (or decks)!
Cara Post – 12th Grade:
"I really enjoy decorating the school for Christmas as a Student Council. I think it is a great opportunity to serve our PCS community and add Christmas festivity into the daily lives of students."
Peyton Smith – 7th Grade:
"One of my favorite Grammar School traditions was in 6th grade. We had our last Christmas party together and it really made us appreciate the time we would have left with our friends, teachers, etc. I think it was a memorable time for all of us."
Sara Hernandez – 8th Grade:
"My favorite PCS tradition is the Christmas concert. I love performing the songs and I love it when all the grades participate especially Kinder & Pre-K. And performing the PCS Christmas song is so much fun, the song is always fun, original, and the kids love it. Praising Jesus on his birthday with songs we love is my favorite thing to do."
Graham Young – 10th Grade:
"My favorite thing about Christmas at PCS is definitely the general merriness among the student body and faculty during this time of year. Whether we're decorating our classrooms for the homeroom decorating contest or learning about the Nativity accounts for Bible class, everybody seems to be in a great mood this time of year that I think only Christmas can bring. It makes coming to school a pleasant experience where positive energy fills the air."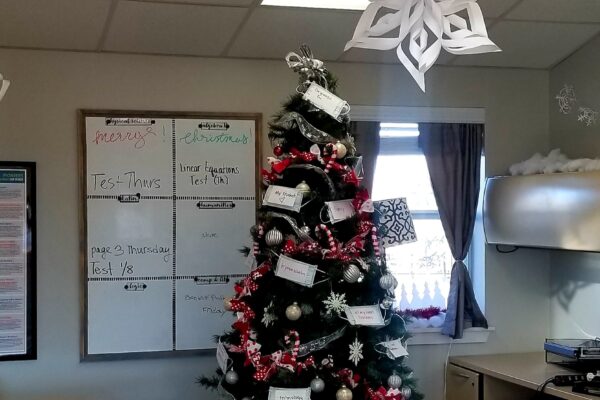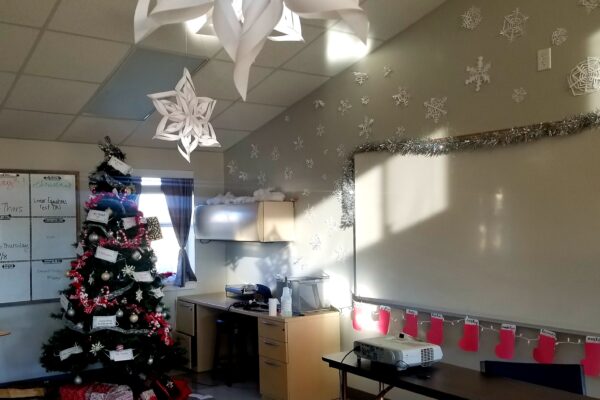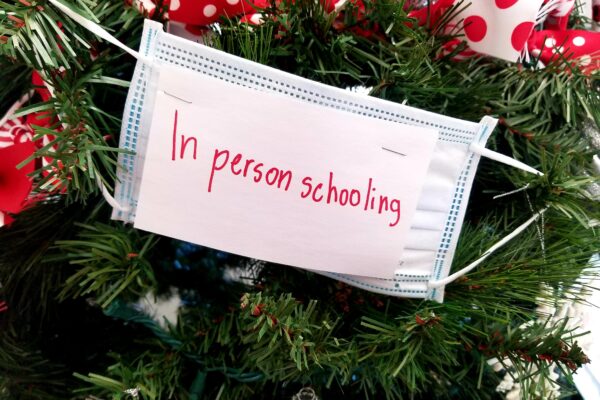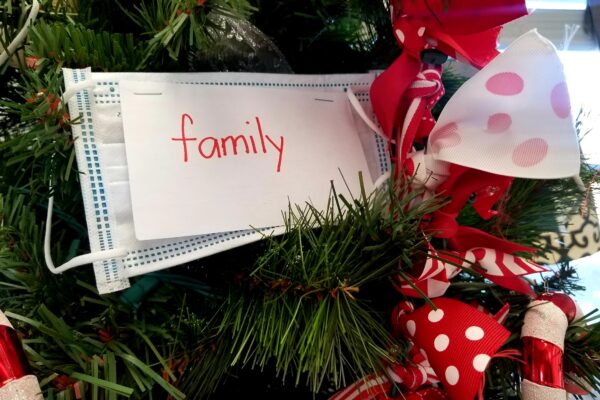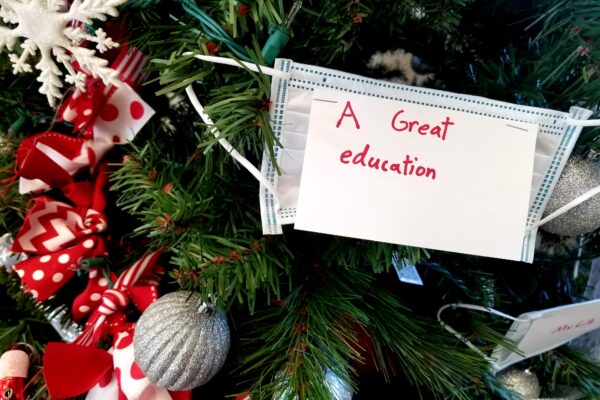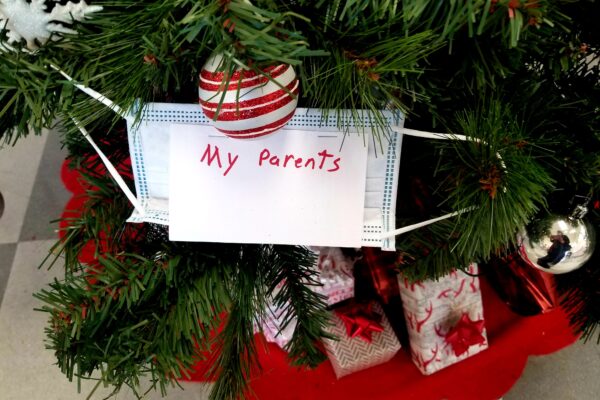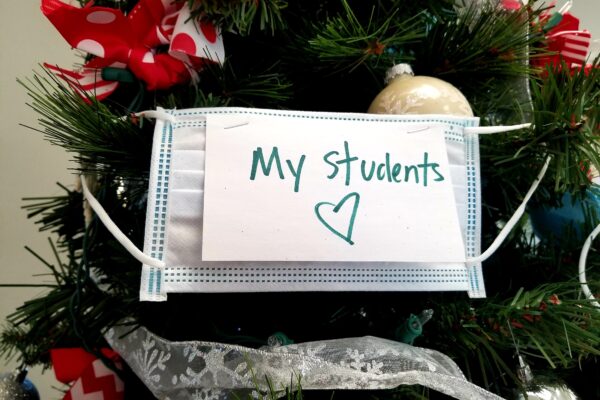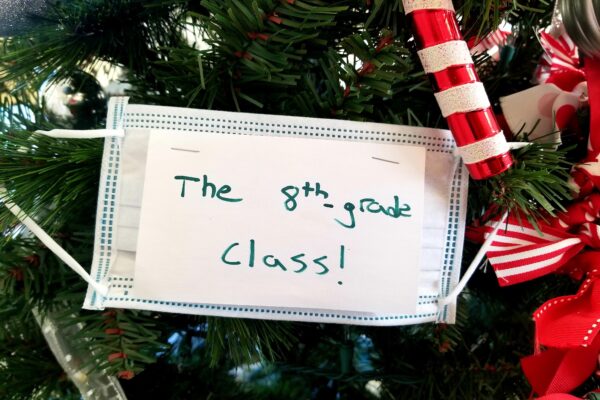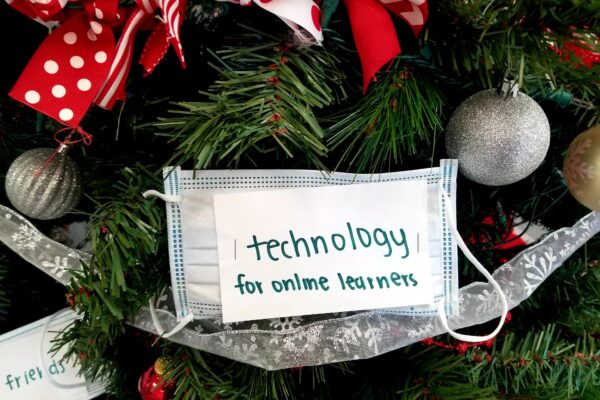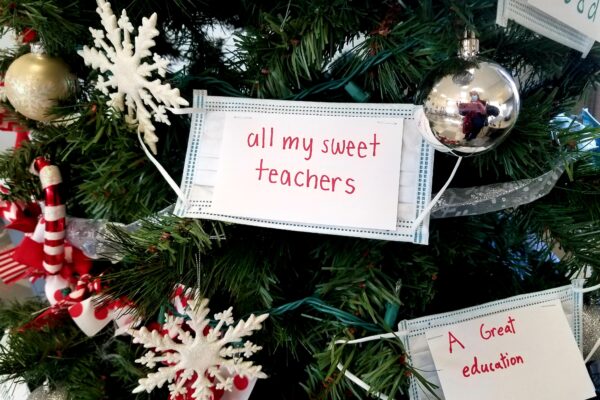 8th Grade COVID Gratitude Tree
Mark Williamson – 9th Grade:
"My favorite Christmas tradition at PCS is when Cantamus (the PCS choir) writes 'The Twelve Days of Christmas, PCS Style'. They write lyrics to the tune of 'The Twelve Days of Christmas', but they rewrite the words to incorporate current school jokes and happenings. This year, Cantamus has written 'O the Blessings of Corona'. It's sure to be a hit!"
Emma Wiggins – 11th Grade:
"My favorite Christmas traditions at PCS are the Christmas House Games. My favorite game is the gingerbread house completion. Mr.Neal always proctors it and makes it very fun."
Lauren Wyatt – 7th Grade:
"My favorite Grammar School Christmas tradition was in 2nd grade making the Jesse tree. On each day we would add an ornament to the Jesse tree and talk about each ornament and how it relates to Christmas!"
8th Grade "Christmas on the Ranch"
Charlie Adkins – 3rd Grade:
"What I love about Christmas at PCS is that some grades get to do Christmas plays. I like the Christmas decorations in our rooms and outside. We get to have class parties and service projects, and next year in fourth grade, I'm looking forward to building an amazing gingerbread house out of graham crackers and candy!"
Ellie Lancaster – 7th Grade:
"My favorite Grammar School Christmas memory was in fourth grade when we made gingerbread houses out of graham crackers. It was fun because we got to eat a ton of candy while we decorated our gingerbread houses."
Caroline Young – 12th Grade:
"My favorite PCS holiday tradition would probably be the Christmas House Games. I love spending time with my fellow house members while doing Christmas-themed activities like gingerbread house decorating and Christmas Beat Shazam."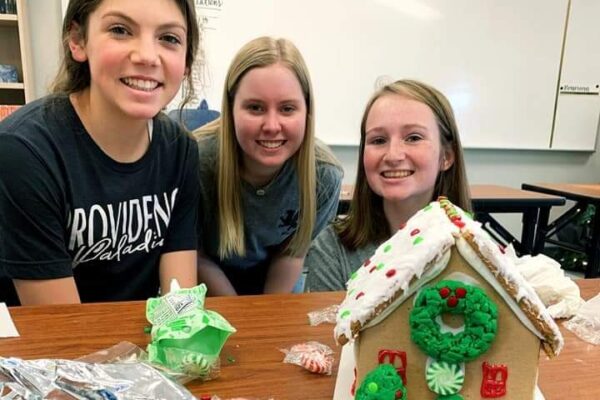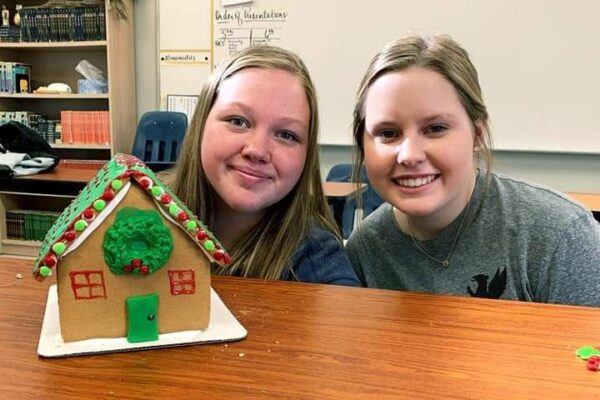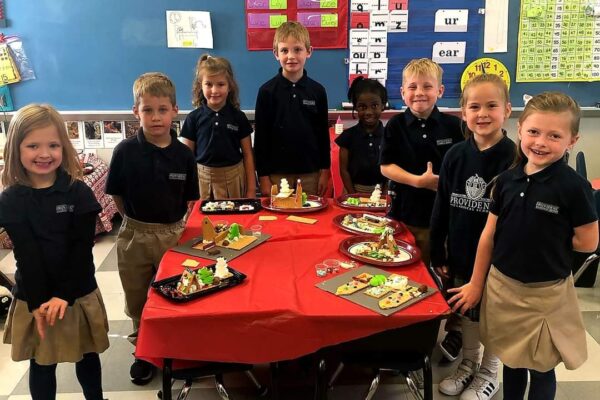 Sweet memories of both Upper and Grammar School students decorating gingerbread houses
Cate Wimberly – 2nd Grade:
"I liked our Christmas party. We made a picture to put in water bottles for kids who are homeless. We got to eat candy canes and make a Luke 2 presentation. I like when Mrs. Lechmann plays her guitar and sings."
Vaughn Barnhardt – 10th Grade:
"I remember performing the 'Young Messiah' every year in Grammar School and, of course, all the Christmas things we would memorize like 'The Bells'."
Brady Scott – 10th Grade:
"I remember the 2nd grade play that we put on about the Christmas Story."
The Pre-K nativity play is a cherished tradition at PCS.
Steven Wimberly – 8th Grade:
"This year we translated Luke 2 from the Latin Vulgate, so that was one of my favorite things to do this year."
Drew Adkins – Pre-K:
"I got to be a donkey in the Nativity Play. My job was to carry Mary and Joseph to Bethlehem. We had a party, and I ate popcorn and apples and made a craft. My friend gave us cookies! Mrs. LaWall and Mrs. Dunnack always turn on the Christmas songs, and also, they taught me to sing 'Away in a Manger'."
But after he had considered this, an angel of the Lord appeared to him in a dream and said, "Joseph son of David, do not be afraid to take Mary home as your wife, because what is conceived in her is from the Holy Spirit. She will give birth to a son, and you are to give him the name Jesus, because he will save his people from their sins." All this took place to fulfill what the Lord had said through the prophet: "The virgin will conceive and give birth to a son, and they will call him Immanuel" (which means "God with us"). — Matthew 1:20-23