Entitled or Grateful? Choices Before the Next Generation
An interview with Christian counselor and consultant Keith McCurdy
As we approach a turning point in the COVID-19 pandemic, it is only natural for parents to want to "compensate" their children for the difficult year we've all faced. However, this might not be the best thing for children and families in the long run. Indulging the desires of children can seem like the easiest path in the moment, but it can lead to entitled kids who grow into adults who are disillusioned, angry, quick to play the victim card, and dismissive of authority, both human and divine.
Parenting is ordained and sacrificial, but that doesn't mean that parents should sacrifice all for the sake of the child. How should we set our family's priorities to honor God, build a strong, balanced family, and raise children who understand their value, capability, and purpose? How can we best prepare our children to live in a broken world without giving in to society's entitled mindset?
In this podcast episode, Christian counselor and consultant Keith McCurdy answers these questions as he shares biblical parenting wisdom with Davies Owens from Basecamp Live. Invest in your family and children today by listening to this helpful interview. Also, join us on Friday, October 1, 2021, at Providence Classical School to hear Keith McCurdy teach on "Raising Sturdy Kids"!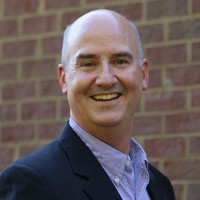 Keith McCurdy is the President and CEO of Total Life Counseling, Inc. and is licensed in the state of Virginia as a Licensed Professional Counselor and Licensed Marriage and Family Therapist. He has practiced for more than 30 years in the mental health field, working with more than 15,000 individuals and families.
For many years Keith has been a consultant and speaker nationally to schools both within and outside of the world of classical Christian Education. He has developed parenting retreats and school programs entitled "Raising Sturdy Kids" to help parents operate from the correct paradigm with their children. A significant part of his work has been helping parents understand the needed benefit of allowing their children to struggle to learn to do hard things. For more information, visit https://www.livesturdy.com/about.
We invite all Providence Classical School parents to join us for a parent education night with Keith McCurdy on Friday, October 1!
For by the grace given me I say to every one of you: Do not think of yourself more highly than you ought, but rather think of yourself with sober judgment, in accordance with the faith God has distributed to each of you. — Romans 12:3