Science in the Classical Christian School
By Christy Benthem & Tom Neal
How do we teach science at Providence, being a Christian school using the classical model?
There is little doubt that the humanities shine in classical Christian education. This leads many to assume that science takes a backseat role. At Providence, we reject this notion. In fact, science at PCS is robust because it is a classical Christian school, not in spite of this. PCS graduates who pursue science majors consistently find themselves to be well-equipped to tackle this challenge.
We, as science teachers at Providence Classical School, want to give you an idea of how we teach science.
I. We acknowledge God as Creator of a world that reflects his glory and is for us to freely explore in all disciplines.
II. We employ the Trivium.
III. We integrate science with other subjects.
IV. We approach science as an avenue for serving Jesus Christ.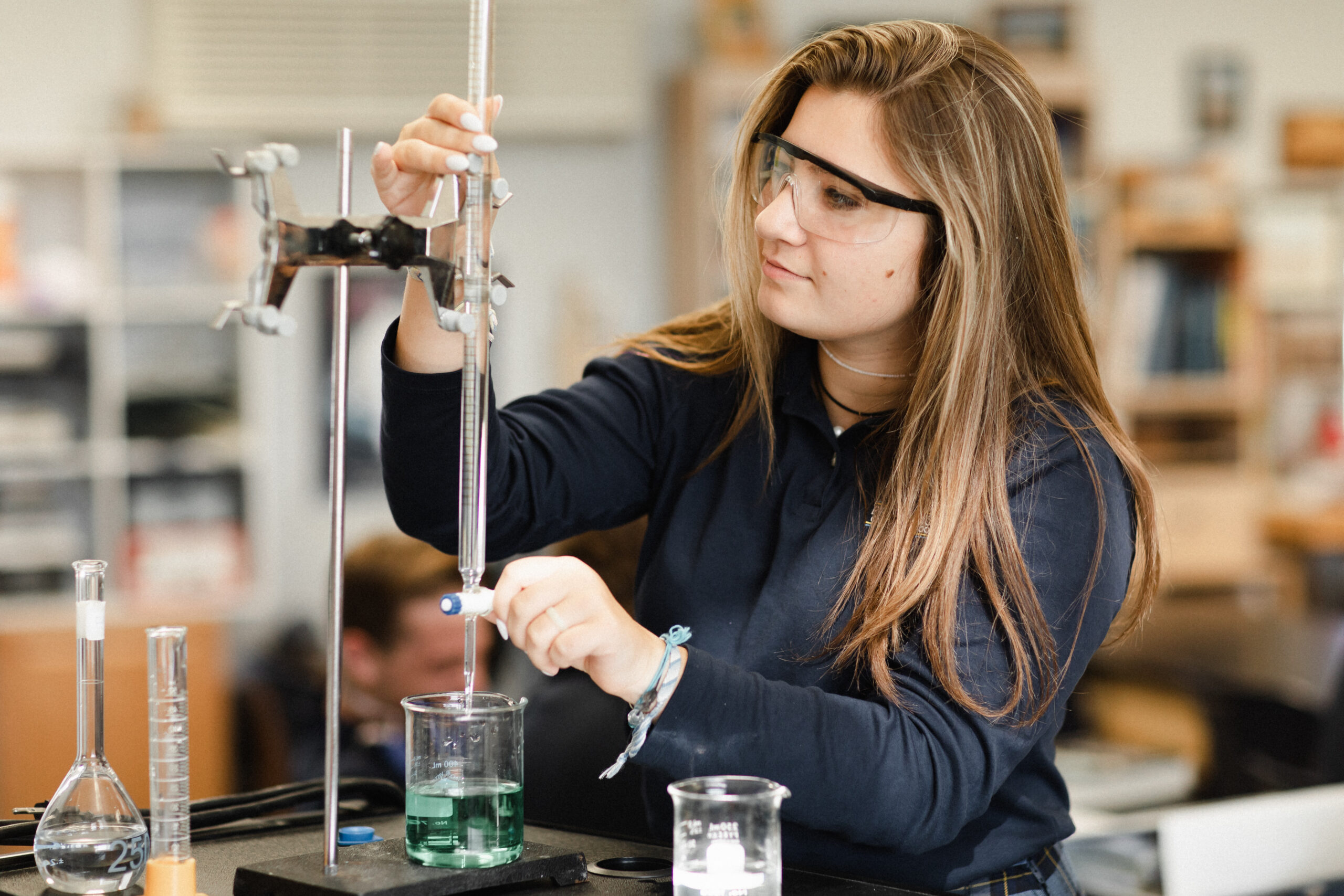 I. God as Creator
Our science courses are centered on the God of the Bible, just like any other course at Providence. We naturally talk about God as Creator and everything as His creation. Everything that exists is made by God and He sustains its continual existence.
Colossians 1:16-17 says, "For in him all things were created: things in heaven and on earth, visible and invisible, whether thrones or powers or rulers or authorities; all things have been created through him and for him. He is before all things, and in him all things hold together."
Science is the study of this created world; everything we study is the very handiwork of God. On every grade's curriculum guide for science at our school, the first objective is to develop an orientation of discovery and wonder toward God's creation. Notice that the primary objective is not simply to accumulate scientific knowledge but to grow in wonder of the world God created.
We are privileged to look at what God made and continues to sustain and to praise him for his genius, beauty, goodness, and power. This, we pray, will lead students to a deeper confidence that this God can be trusted as Savior. Investigation of nature uncovers God's handiwork; it does not replace or disprove God's existence. We categorically reject the worldviews of materialism, scientism, and naturalism.
God created a particular kind of world, and we must take note of it. It is intelligible: we can observe it, find patterns, and figure out how it works. We rarely consider that He could have created the world and humans differently. Our world could have been one that invites no discovery or investigation, and we could have been creatures with no tendency to discover or learn. However, in his wisdom, God created people to be pursuers of truth, goodness, and beauty. We are designed to progressively uncover the order of creation. This was God's ideal from the beginning: Adam and Eve were called to actively engage with creation, to "fill and subdue" it.
Similarly, God designed the world to be discovered. Science at Providence, then, has a hands-on bias: weekly double-period lab exercises and demonstrations, Ecology class at the pond, dissections, and exploring violent chemical reactions safely.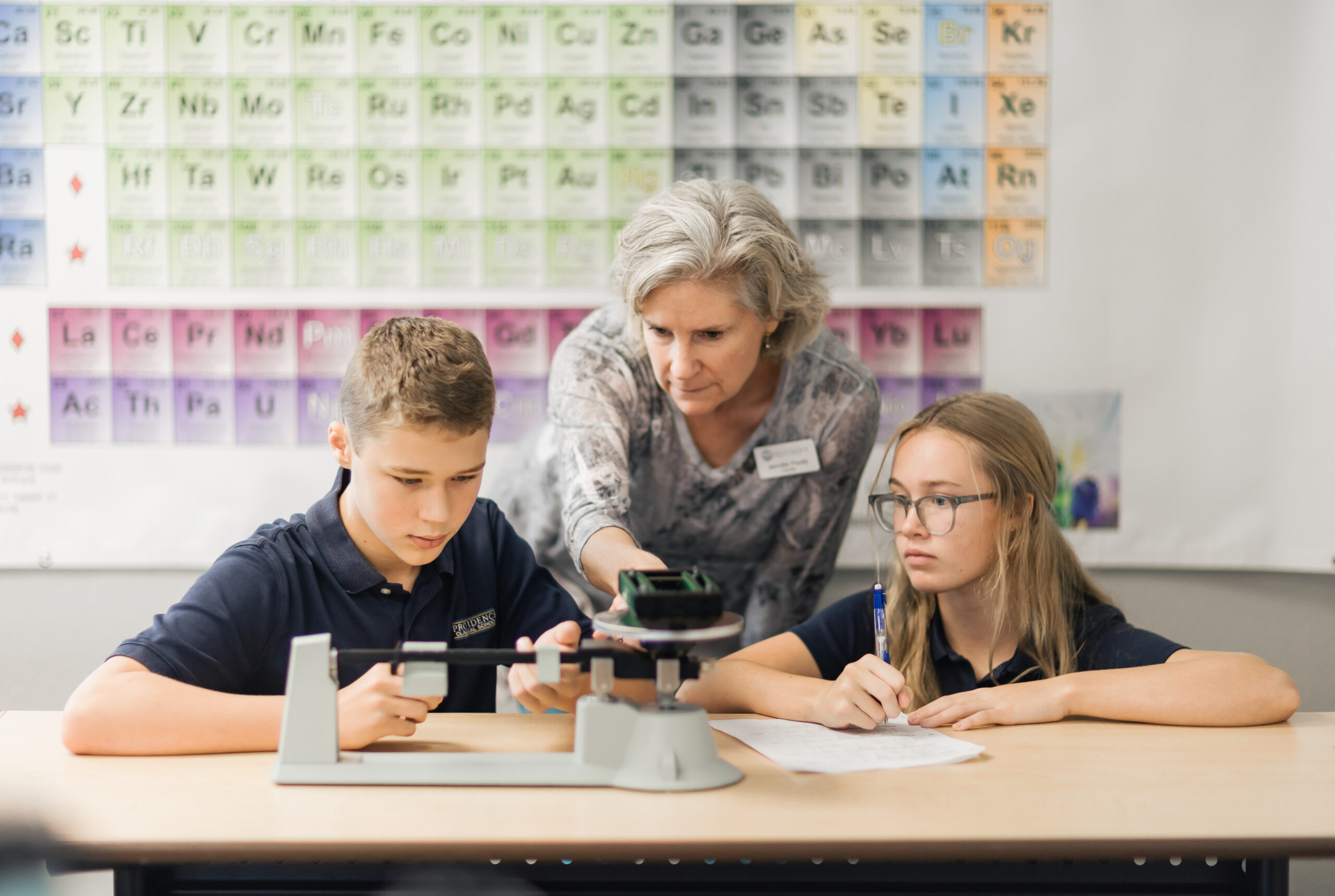 II. The Trivium
We teach the grammar of each science domain by emphasizing the foundational facts, skills, and vocabulary. For example, our students learn the laws of physics and key polyatomic ions. They learn how to operate a microscope and to properly read volumes in a graduated cylinder. They learn to identify biomolecules and perform unit conversions. This groundwork is critical to building a logical framework for seeing the relationships between concepts.
Mastery requires students to be able to clearly articulate their understanding in writing and speaking; significant class time is devoted to this end. For example, ninth grade Physics students are required to teach a short lesson to their classmates and receive feedback on how they communicated. Tenth graders research and give persuasive speeches on dangerous microorganisms.
To learn more about how Providence Classical School prepares students for college and beyond, watch our Senior Thesis Film and schedule a tour today!
Watch Thesis Video
Schedule a Tour
III. Integration
The integration of science and our Christian faith is paramount to a classical education. Since God is the author of all truth, science and the Christian faith are allies, not enemies. Our instruction does not conform to the popular misconception that science and faith are at odds. Rather, we explore God's creation freely and boldly, knowing that science should bolster, not threaten, our faith.
In addition to the prominent integration of Christian faith, science at Providence integrates with other subjects. We apply math skills to develop models of motion, energy, and chemical behavior. We use writing skills to construct organized and clear lab reports. We locate scientific concepts in history and learn about key figures such as Newton, Heisenberg, Linnaeus, Lavoisier, and Einstein. Determining the historical, cultural, and philosophical context of their discoveries and inventions enriches our study.
For example, in tenth grade, students learn about the Great Chain of Being in Humanities class. Across the quad in Biology class, they discuss how that concept impacted the classification of living things. Reading original sources whenever possible is challenging but provides insight and context. For example, twelfth grade Physics II students read long quotes from quantum model scientists in their reading of In Search of Schrödinger's Cat.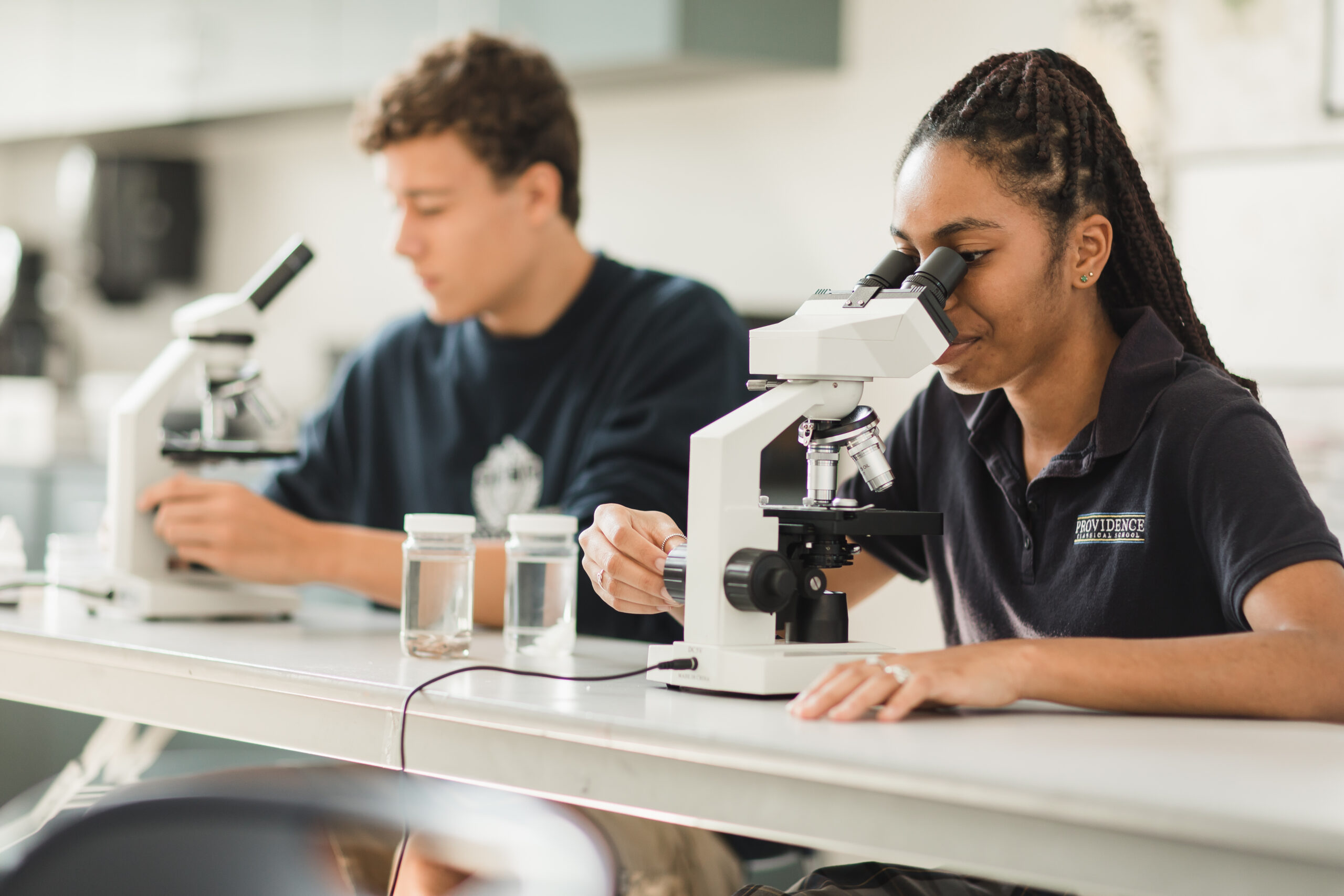 IV. A Tool for Christian Service
Science is an incredibly powerful tool for solving human problems. Indeed, modern science has had an enormous impact on human life. Because of this, many people have elevated science inappropriately. They believe science holds the answers to all human problems and questions. This deification of science is idolatry, and, as stated previously, we reject the worldviews of materialism, scientism, and naturalism.
We affirm that science is indeed powerful. It empowers us to solve problems, alleviate suffering, and help people to flourish. However, it is limited. While science can solve problems and answer many questions, we remind our students that science is not capable of solving our biggest problem, sin and separation from God.
Science cannot answer the most important questions that humans ask like: What is my purpose? How should I live? Where am I going? The answers to these ultimate questions are only found in the Bible and the person of Jesus Christ.
We want our students to stand firm in this truth, and at the same time, to study science without fear. Studying science is the examination of God's physical creation, a masterpiece of beautiful and diverse complexity. Science is the framework within which we grow to marvel more and more at his order, provision, power, and vastness.
Christians with a science literacy are also better equipped to engage the culture around them. As science develops with unprecedented rapidity, the ethical issues that arise demand attention. To participate in these crucial discussions, Christians must know science. More particularly, believers who enter the STEM field glorify God by pursuing scientific excellence informed by a solid foundation of trust in the grace of Jesus Christ.
For since the creation of the world God's invisible qualities — his eternal power and divine nature — have been clearly seen, being understood from what has been made, so that people are without excuse.
Romans 1:20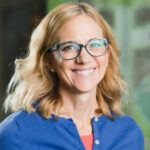 About Christy Benthem:
Christy Benthem earned her Bachelor of Science in Biology from Calvin University and taught secondary science in Illinois, Michigan, and Lithuania before coming to Texas. This is her seventh year teaching science courses at Providence Classical School. This year, her classes include Biology, Anatomy & Physiology, and Ecology. Christy and her husband, Derek, have three children — Anika (PCS Class of 2021), Lars (12th grade), and Lottie (8th grade). Christy's love for science was born out of growing up in rural Michigan with a river and a forest to explore as well as her parents' medical missions career.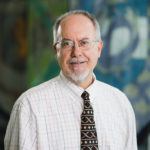 About Tom Neal:
Tom Neal earned his Bachelor of Science in Chemical Engineering from Michigan Tech and spent 32 years in technical, marketing, sales, and operations management with various companies, including Exxon Chemical and J.M. Huber Corporation. He joined the PCS faculty thirteen years ago and has taught a wide range of math and science courses. In addition, he previously coached basketball for five years and Science Olympiad for two years. This year, his classes include Physics 1 & 2, Chemistry, and Advanced Chemistry. Tom has two grown sons, Jon and Christian, and enjoys spending quality time with his grandson, Isaac.